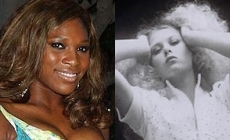 Serena Williams and Maria Sharapova

MELBOURNE--At the Australian Open tonight (8:30pm CST) USA time in the women's semifinals, Serena Williams of the USA enters the match ranked 81 to face Maria Sharapova of Russia who will move up next week in the rankings from two to one. Wednesday night USA time, Serena Williams defeated the Nicole Vaidisova of the Czech Republic in the semifinals 7-6 (7-5), 6-4 while Sharapova defeated Kim Clijsters of Belgium 6-4, 6-2. Both were two good wins over very tough opponents meaning both Sharapova and Williams are both playing well.

Head to head Serena is tied with Maria 2-2 and won their last match right here in Melbourne in the semifinals after saving a matchpoint two years ago 2-6 7-5 8-6 in a thriller of a match. As I remember Maria and Serena both were striking the ball extremely hard, but Williams mixed in some net play and topspin loops to win. After the victory, Serena engaged in a huge celebration; jumping up and down over and over. The bad news for Williams fans is Maria is playing better than she was two years ago, while Serena is not playing as consistent as she was back then. But all in all I think Serena's 85% is better than most's 100%.

My keys to the match would be Serena's serve, volley and forehand as well as the error to winner ratio from both players. The reason I list Serena's serve, etc is normally Sharapova is solid in every match whereas Serena's game can go off or on. This is why I think if Serena can be aggressive with her serve, the fastest this year and come to the net and make her volleys, Maria will be at a disadvantage. Maria has improved her game but her volleys and serve are nowhere near as good as Williams'.

Maria will need to bring her best tennis to the table if she wants to stop a red hot Williams, and try to pressure Serena to make more errors than winners. She will also need to play to Serena's forehand and again try to force errors as this shot can go off. The match should be close and could of course go either way. But I think Serena likes pace and she will get a lot of it from Sharapova and feed off of it. As I said before the tournament started, Serena does not have to play her best to win. If she can play close to her best or simply maintain a high level, she should be able to fight through a win over Sharapova in three sets to seal her impossible Australian Open win.