| | | |
| --- | --- | --- |
| | Yes! Start my subscription to Lawn Tennis Magazine today. I'll pay the special rate of just $50.00 for 1 year (12 issues) and save 60% off the annual cover price. Plus I'll recieve a can of high quality tennis balls free as my gift for subscribing! | |
Since June 1997, Lawn Tennis has graced the internet with informative and rare news, photos and other insights of tennis excellence. In September of 2002 we presented the first edition of this website published in print in the form of a monthly tennis magazine at a subscription rate of $50 a year for 12 exciting issues! Catch all the drama and excitement by allowing our monthly tennis magazine be your inside scoop to the professional tennis tours!

• Monthly tennis news from ATP and WTA tennis tours.
• Tennis news and special reports.
• Exclusive photos from around the world!
• Tennis calendar and tennis on TV (USA, Europe, etc).
• Statistics including rankings and prize money.
• Exclusive tournament reports and player profiles.
• Tennis gear and product reviews and more!

• Subscribe now by: Mail | PayPal

Payment Options


We currently accept United States and international postal money order payments and checks from any checking account. We currently accept only United States credit cards: any US-issued credit, debit, pre-paid, or gift card with a Visa, MasterCard, American Express, or Discover logo. We also welcome PayPal. Make Money Order or Check payable to Lawn Tennis, and mail to:
LAWN TENNIS Magazine
645 West 9th Street
Unit 110-295
Los Angeles, CA USA 90015

*See orderform for Canadian and international magazine rate.
**Send correspondence concerning subscriptions and/or advertisements to the above address or please email. Lawn Tennis Magazine is published and mailed worldwide monthly. Please allow two to four weeks for delivery of first issue. All rights are reserved. Unauthorized distribution or reproduction is strictly prohibited.
Selected Covers: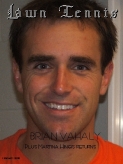 Cover: Brian Vahaly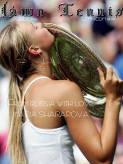 Cover: Maria Sharapova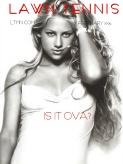 Cover: Anna Kournikova