Media Rush To Criticize Venus' Loss
By Tripp Mateschitz, Lawn Tennis Correspondent
Posted: Monday, January 16, 2006 11:30pm CST USA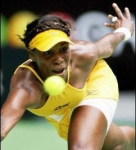 Despite the fact that Venus Williams is the reigning Wimbledon champion, some members of the press have again chosen to write off Williams as they seem prone to do in recent years after any Williams loss which is short-sighted and unfair. Monday in her opening round match at the Australian Open in Melbourne, Australia, Venus lost to the unknown Tszvetana Pironkova of Bulgaria 2-6, 6-0, 9-7 in two hours and twenty-eight minutes after hitting two last backhands into the net for a total of 65 unforced errors.
Venus after the match said Pironkova was "a very good player" but explained her errors decided the match; not Pironkova's play. Williams' media critics rushed to capitalize on this loss however with headlines such as "No Longer A Threat" and "Venus' Reputation Did Not Faze Me." They neglected to mention that Venus Williams has never played well in her career in the early months of the WTA Tour calendar, but often peaks later in March or the summer months. Let's think about it for a minute; how many people remember who won the Australian Open five years ago and how many people remember who won Wimbledon five years ago? With apologies to the Australian Open, if Williams or her body have have decided to peak during Wimbledon or the US Open, both more prestigious grand slam tournaments, then that's not all bad.
I did not expect Venus to perform at her best this week after sustaining numerous injuries in fall 2005 and more recently in Hong Kong. That plus the fact that Melbourne has never been kind to Venus made this result not a major surprise to me. After some time off and training back in Florida, Venus should regroup and win more titles.
But back to the press: If Venus is "no longer a threat," why write so many negative articles about her? The press was negative when Venus Williams won 35 matches in a row back in 2000. And who will forget those dreaded all-Williams grand slam finals? It seems win or lose there is a problem for Venus and her sister Serena Williams. Should Venus be expected to win all of her matches or held to some lofty standard reserved only for the Williams sisters? Despite the fact that Venus and her sister Serena Williams (defending Australian Open champion) hold two of the four grand slam titles, many articles appeared on the eve of Melbourne saying the Williams era of winning was over.
To be fair Pironkova stayed in the match with Venus for two and a half hours but she won 100 points; 65 gifts from Venus. Venus had previously beaten her last year 6-1, 6-3 but was simply too rusty in this match to win. I hope Venus decides to play mixed doubles in Melbourne for the practice, but somebody who only played 12 WTA Tour tournaments last year may decide to against it. I also hope Venus will play more tournaments in 2006 if only to remove the five zeros from her WTA Tour rankings.
Yes, Venus Williams is still a threat and she is also still too good a player to be ranked number ten.
©2005-2006 Lawn Tennis - News Archive | Home