Australian Open Draw Opens For Martina Hingis
By Tripp Mateschitz, Lawn Tennis Correspondent
Posted: Thursday, January 19, 2006 11:46am CST USA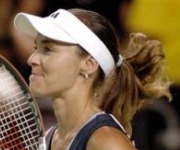 Number 349th ranked Martina Hingis of Switzerland most likely felt some measure of relief when 5th ranked Mary Pierce of France was upset Thursday by Iveta Benesova 6-3, 7-5. After all Hingis, who faced difficulties against power players three years ago, would have had to play the hard hitting Pierce in round three Saturday. In fact Mary Pierce in 1995 beat Martina Hingis 6-0, 6-0 and the 2005 Roland Garros and US Open finalist Pierce would have been favored to triumph over Hingis.
Week one of the Australian Open has been kind to Martina Hingis. In round one Tuesday, Hingis beat the 30th-seeded Vera Zvonereva of Russia 6-1, 6-2 in a little more than an hour. The former world number one continued her return to grand slam tennis with an quick 6-1 6-1 victory versus Emma Laine of Finland in the second round Thursday.
Many if not all of the power players are in the opposite half of the draw from Hingis (Serena Williams, Maria Sharapova, Lindsay Davenport and Justine Henin-Hardenne.) This means Hingis could reach the quarterfinals without facing another seeded player. 2nd-seeded Kim Clijsters of Belgium, herself facing a hip injury, most likely would await Hingis in the quarterfinals.
The three years away from the game have not taken too great a toll on the game of Martina Hingis. She this week has shown in addition to her always superior court tactics, more powerful groundstrokes and serves which Hingis rightly believes she must posses in order to lay down any sort of claim to a top spot on the WTA Tour today.
"I'm happy the way I played today, especially toward the end when I loosened up and really was going for some shots and took some risks and they paid off," Hingis said.
Hingis meets Czech Iveta Benesova in the third round Saturday.
©2005-2006 Lawn Tennis - News Archive | Home