Tennis Rivals Say Williams Sisters Not Done Yet
By Tripp Mateschitz, Lawn Tennis Correspondent
Posted: Monday, January 25, 2006 7:55am CST USA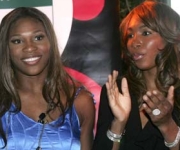 Week one of the Australian Open saw surprisingly early losses from both Venus Williams and her sister and defending champion Serena Williams. Venus lost in round one to unknown Tszvetana Pironkova 2-6, 6-0, 9-7 while Serena lost to Daniela Hantuchova 6-1, 7-6. It was the first time Venus had lost a six love set since 2000. Shortly after the Williams losses, assorted tennis coaches and WTA Tour tennis players weighed in; contradicting recent media reports of the Williams sisters' demise.
With her Wimbledon rankings points still intact, Venus should remain near her current ranking of number ten. Serena's WTA Tour ranking however Monday is projected to fall to number 39, her lowest ranking since 1998 which was her first full year on the WTA Tour. Back then in her days as a lowly qualifier, Serena Williams was climbing the rankings as she upset world number one Lindsay Davenport and defeated five top ten WTA Tour players faster than any player in the history of professional women's tennis.
Over the weekend, the Williams sister's former tennis coach Nick Bollettieri published an open letter in a British newspaper to Serena saying she and Venus both could rediscover their tennis successes but also, "(Serena) you are not physically fit and you no longer control the center of the court." Serena may have dismissed Bollettieri's letter as a coaching casting call as she did with images of her taken from her rear saying it was all "muscle" and vowing to work hard and return.
After a three year injury break from tennis, former world number one Martina Hingis of Switzerland, who is making a return of her own and who is never at a loss for words weighed in. "They're such survivors. I'm sure they're gonna bounce back. No one would have thought that Venus was gonna win another grand slam last year and she came out there and won Wimbledon. It was the same with Serena last year, winning here. It depends on them, how much they really want it. I don't think they're just gonna walk away like that."
US Open Champion and world number two Kim Clijsters of Belgium agreed saying, "They can still win every tournament that they play. They still have the power and the ability. I think when they're at their best and they're at their fittest, they're the best athletes out there."
©2005-2006 Lawn Tennis - News Archive | Home